Drawings / graphic

I started drawing a long time ago but for a long time did not treat it seriously. I thought of myself simply as an artist, a photographer. For many years I worked and developed in the field of photography, and drew only from time to time, sitting in obligatory meetings at work or listening to some lectures. Drawing always gave me pleasure. Having a sheet of paper and a black pen, preferably fine, I could "survive" even the most boring event during which it was necessary simply to sit. By personality I am not very calm and patient. I often need to "occupy" my hands, which with pleasure draw anything. Then I easily concentrate, I feel good, and on paper appear various images.
At the beginning, I simply made graphic representations, more often concrete than abstract, on paper or pieces of cardboard. Looking at them like at my own diary, I could remember what happened to me or what I was thinking when I drew them. Approximately ten years ago, I began to be enticed to draw especially during those moments when I was not actively practicing photography. If I was feeling bad or having a hard time - I drew this; when I was feeling good - I also sought somehow to illustrate this. In 1999 I discovered for myself "my own" materials - thin sheets of cork and papyrus, which go well with what I draw. Then I started to experiment with paints, which for me were always attractive: Like a child I love clean bright colors.
That which I draw is far removed from photography, which I continue to this day to practice. I am interested in fine arts for a long time, although I never studied drawing. Realistic representation has not appealed to me for a long while; photography is sufficient for me in this sense. For me, drawing is the possibility to express oneself more deeply, not using already existing reality, which is natural for photography, but using the invention of a new reality on a flat surface.
Eternal questions move me: who we are in this world and why we exist, how we are connected with one another, what is our energy, soul, and life at all. Relating to Jewish tradition, the themes affecting Jewish mysticism and generally Jewish culture move me deeply. I also find interesting the expressive symbolism in different world cultures. I think about and draw this. Sometimes, true, my drawings - they express very private feelings and worries.
When I start some new work, I never know in advance how my illustration will turn out in the end or whether it will turn out at all. In the beginning, I do various colorful sketches, often spontaneous, flirting not only with the theme or the mood which I want to illustrate but also with the very paints and their blending. And then I "animate" this, filling out the space with the illustration which I see or imagine there. I trust my hand, which often leads me in my spontaneity. With some pictures I work a long time, putting them aside and returning to them again, but sometimes all of a sudden everything happens quickly and impulsively. I seek and discover for myself rhythms and lines, and I see that everything in the world is made up of these very forms. This is currently very interesting to me.
In the present period I have many ideas which I hope to fulfill.
All presented illustrations exist only in one exemplar.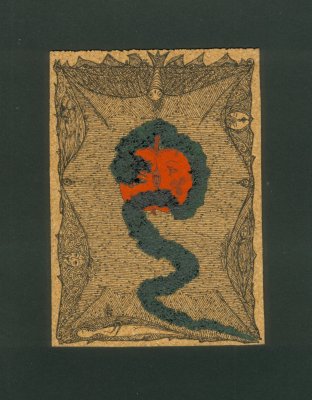 Apple of Life
Cork, 25-26 June 1999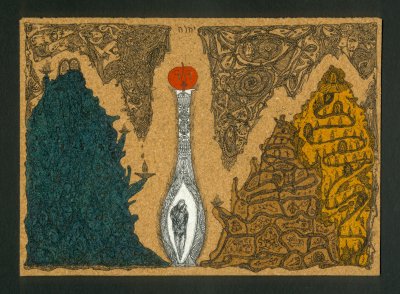 Ascent (Creation, Life, Love
and 50 Gates of Light)
Cork, June - July 1999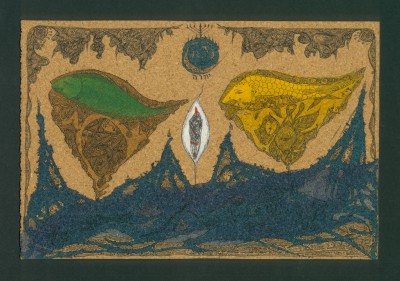 Two fishes
Cork, June-July 1999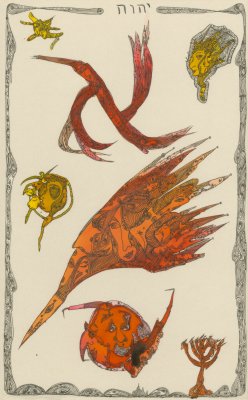 Red Dance of "Aluf"
Carton, 29 November 1999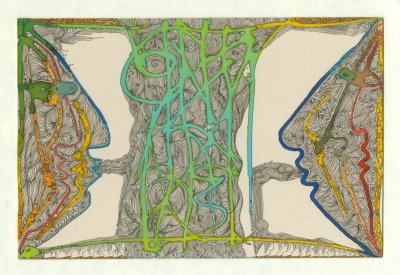 Two persons and ... river
Carton, July - August 2000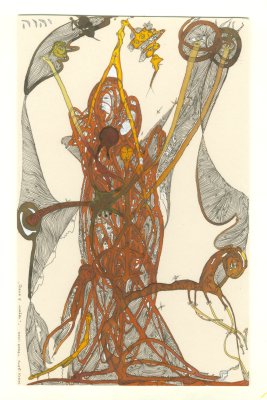 Two in love
Carton, 2000 - 2001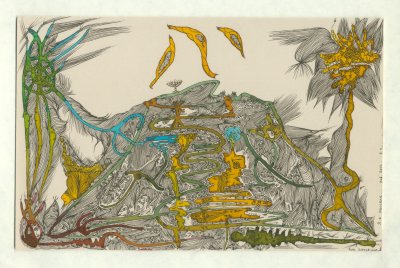 I am in Kassel
Carton, January 2002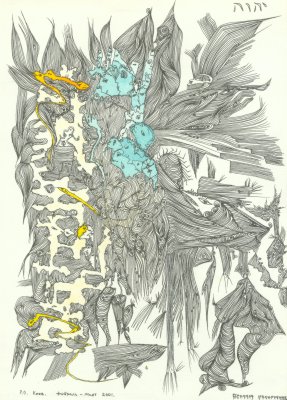 Strange mood
Paper, February - March 2001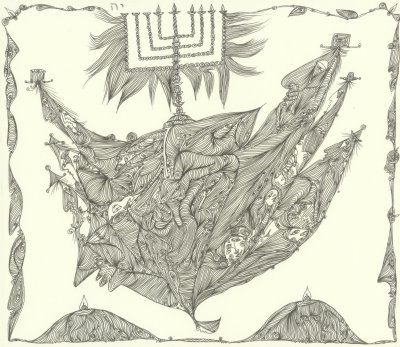 Hanukah, 3-5 Days
Carton, December 2000
Wall and fluidity of everything
Papyrus, June 2000 - January 2001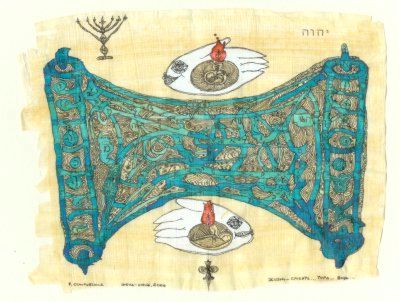 Life... Death... Torah... Water...
Papyrus, July 2000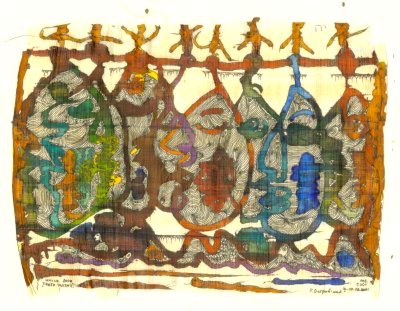 Theater of Life
Papyrus, 2000 - 2001