The book: "Jews in Ukraine, Shtetls, 1989-1994"

This book contains photographs of immeasurable importance for me. They tell about the lives of Jews in the small towns and villages of the Ukraine, the so-called "shtetls".
I am working on a major project entitled the "Jewish Album" and comprised of three extensive sections: "Family Album", "Jews in the Ukraine" and "Emigrants".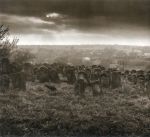 I have been involved with photography for twenty-six years now. The "Family Album" was my first approach to the Jewish theme. I was born to a Jewish family in Kiev, but have spoken Russian since my childhood.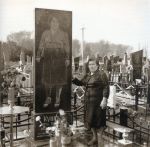 I went to Ukrainian and Russian schools and, like the majority of my peers, was raised to believe in the superiority of Russian culture. Unfortunately, I do not speak Yiddish. Although I have been taking photographs of my relatives for many years, I did not consciously take up the theme of the "Family Album" until 1987/1988, when most of our relatives began emigrating to the U.S., Israel and Germany. Sensing how quickly time was passing, I offered to photograph my relatives, as a means of preserving their memory. And now I treasure these portraits of my family members. Some of them have died already, but most have emigrated. It is also important to mention that I recorded the life of my own family in photographs, as a kind of detached observer. In doing so, I attempted to show the very unique "climate" of our life at home, a world of human interrelationships that was not always a simple one.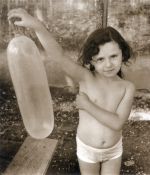 Seeing close relatives begin to emigrate away from me was neither an understandable nor a pleasant experience. "How can one leave one's homeland?" Like many others living here, I had been infected by the virus of "Soviet patriotism", and I did not really know, much less comprehend, what was happening around me. The times changed quickly, however, and now, in retrospect, it seems very strange that there was no memorial to the victims of Babi Jar and the many other places touched by the Holocaust, that everything connected with Jewish culture was contemptuously referred to as "Zionism" and subjected to slander by order of the Communist party whenever the opportunity presented itself. But in spite of those things we had our share of joy in life, for when one is born in a "swamp" and told it is the very best place on earth, when one never encounters anything different, then it is easy to believe it is true - until one finally awakens...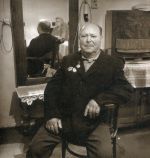 Of course anti-Semitism was all around us: in school, at admission to academic institutions and when one was looking for work. But it was always concealed; people spoke of it in private, in whispers. An outsider would have thought there was no such thing as anti-Semitism. It has not been very long at all since, under the influence of so-called per-estroika, people began to talk openly about it and information became freely available. We studied our own history and came to understand that the word "Jew" was more than just an embarrassing entry in a passport that caused problems when one was looking for work, that in fact this designation signified one's belonging to an ancient culture that had survived for more than five thousand years.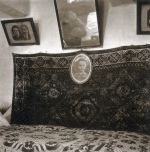 Yes, many things have changed. The country in which I live is no longer called the USSR but now bears the name Ukraine. And sometimes I actually manage to travel abroad and to photograph my relatives for the "Family Album". The series entitled "Jews in the Ukraine" began with Shargorod, a city I knew about, having heard many stories from my friends, but did not actually visit and photograph until August of 1989. Because - like some many people in this country - I could not imagine that so-called "shtetls" still existed in the Ukraine, the things I saw moved me deeply. I talked with people and took a great many pictures.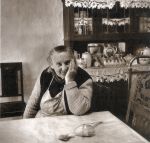 Capturing these faces, this light, these peculiarities on film was a fascinating experience! I felt as if I had known them for a long time, we got along so well... Over a period of four years I returned to Shargorod again and again and saw the houses of emigrant Jews slowly emptying. In 1991 I began to travel to other small towns and villages that had once been the traditional homes of Jews. All of these journeys were undertaken on my own initiative; it was only for a brief period that I photographed the monuments of the material heritage of the Jewish people for the Institute for Theoretical Architecture and City Planning in Kiev. I traveled by train and by bus, like most other people here, and still do so today.
Every town has its own history and its own people; each is full of opportunity for new encounters. The Ukraine is an uncommonly beautiful, fertile and rich country, but it is full of poor, dirty streets, filthy railroad stations and buses and trains filled to overflowing. Nevertheless, I am often struck by how infinitely patient, good-hearted and proud its people are. Complete strangers have come to my aid time and time again. As of this writing I have traveled to thirty small towns and villages (shtetls) traditionally occupied by Jews. They present a great diversity of faces. While one place has nothing left but remains of Jewish cemeteries, a few elderly Jews may still be found in the next. In contrast, larger towns and cities have witnessed a revival of religious and cultural activities in the Jewish communities. But I am most interested in the life of the Jews in the shtetl because it appears to me now, in our current situation, that the very special and unique culture of the Jewish shtetl as it has taken shape in the Ukraine is disappearing before our very eyes. It is disappearing along with the people now leaving forever the places where their ancestors have lived for hundreds of years.
A great many Jews have emigrated from the Ukraine in recent years. And the exodus continues. It is entirely possible that in perhaps ten years many towns will have no more than a monument to remind us that Jews once lived there. It is for this reason that these photographs are so important to me.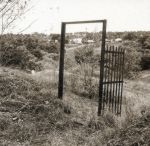 Many photographs are portraits of famous, important people, but I was more concerned with photographing very ordinary people as they really are. Every human being is interesting, and I had the opportunity to talk with many different people and in some cases to record their stories with the aid of a dictaphone.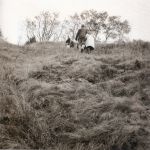 Most of the old people look back upon astonishing, sometimes horrible fates, having lived through the Second World War, the deaths of their friends and relatives, hunger, cold and an existence dominated by the constant fear of repression by the Soviet state. Their eyes have seen so much and have so much to remember! For me, these photographs came to represent the discovery of my own feelings about a Jewish culture whose presence I had perhaps sensed, but never known. All of us carry such a genetic memory inside of ourselves. The countless repetitions in conversations, the particular melody of speech - all of this is an echo of old customs and prayers. I wanted to arrange photographs in a row, like pearls on a string. To speak of something and then to repeat the utterance is like reciting a prayer. And it was essential that the photographs have a warm, brown tint.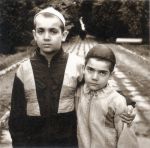 I began working on the "Emigrants" series in November of 1993, when I received a grant from the Soros Foundation that enabled me to travel to the U.S. In my mind, the key to the entire "Jewish Album" project is an examination of the image of the so-called "Soviet Jew", of an infinitely vulnerable human being whose identity was shaped under Soviet rule, who lived under its repression and who has perhaps only superficially freed himself from its grasp. This is all very familiar to me, because I was born in that society, grew up in it, and even as a child sought in wonder to understand what it was that made my relatives and me different from the other people around us. I still think often about that question today. I am sure that many things are inevitable - part of a historical process, although at the same time I experience all of the inequities and tragedies that go on around me with a great deal of pain. But I recognize them, wherever I go: these faces that are so familiar to me. And in the depths of their eyes I see that perpetual grief - the grief that is only set in different "frames".
I wish to express my thanks to the Dietrich-Oppenberg-Stiftung of Essen for giving me the opportunity to publish this book. I am also grateful to Ute Eskildsen (Photographische Sammlung, Museum Folkwang, Essen), Valentina Ivaschenko, Vladimir Oks, Martin Cunz for his editing advice, my husband Oleg and my son Alexander for their help with my work on this book and the Diergardt and Barsky families for their extensive support in Germany.
Rita Ostrovskaya